Course details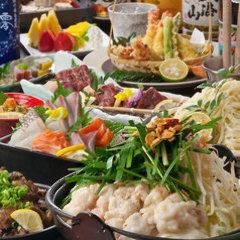 1/7 ~ 【9 items with all-you-can-drink for 2 hours】 4000 yen】 Recommended by the chef's chef, special product "Kotoba" course
4000 yen
With 2 hours drink all-you-can-eat
9items

2

-

60persons

All-you-can-drink available
Recommended chef! It is a course with plenty of popular menus such as a pot with a pot that is perfect for a cold season and deep-fried juicy chicken specialties ♪ ※ The picture is an image.
Course menu
【Small bowl】 Today's small bowl
【Appetizer】 Assorted 3 types of fresh fish
[Cold vegetables] Classic! Popular vegetables plentiful Caesar salad
【Fried】 Tin Tree Special Juicy Deep-fried
【Cooking】 Bonjiri and sliced thigh skewers
【Pottery】 Tin Tree Special Pot of Nabe ~ Miso or Sauce Oil ~
【Excellent】 Special pillared cucumber
【Adjective】 Selectable epithet ~ Champan or hobo (with egg) ~
【Sweetness】 Today's sweetness
※ advance booking required (same day reservation required)
※ 2 hours with all you can drink (30 minutes before LO)
* The contents may change depending on the purchase situation.※The photograph is an image.
The limit time of the course is 120 minutes.
The last order of all-you-can-drink is 30 minutes ago.
All-you-can-drink menu
·beer
· Clear Asahi
·Highball
· Black Nikka High Ball · Ginger High Ball · Cola High Bow · Lemon Squash High Ball
· Shochu
· Tou and (potato shochu) · Yan and (wheat distilled spirits)
·Sake
Magnificent
·Plum wine
· Tenderness plum wine · rich plum wine
·sangria
· Vigna Alvari sangria (red · white)
·Cocktail
· [Cassis base] Cassis soda · cassis Orange · cassis grape · cassis oolong · cassis tonic 【peach base】 peach soda · fuzzy group / peach grape · regga punch · peach tonic 【lychee base】 lycheesada · lychee orange · litchi grape · lychee oolong · Lychetonic
· Sour · Shochu High
· Lemon Sour · Lime Sour · Grapefruit Sour · Orange Sour · Acerola Sour · Oolong High · Green Tea High · Jasmine Hiron High
·wine
· Almaden (red · white)
· Flavor distilled spirit
· Seasonal fragrance? (Cassis · Yuzu · Lychee)
·Soft drink
· [Pepsi · Cola · Ginger Ale · Tonic Water · Orange Juice · Grapefruit Juice · Lemon Squash · Acerola Juice · Calpis · Calpis Soda · Oolong Tea · Green Tea · Jasmine Tea
· ◆ Further upgrade with + 500 yen ◆
· 【Beer】 Draft beer (Asahi Super Dry) 【Shochu】 Satsuma Shiji (Potato Shochu) · Nobiru (Wheat Shochu) / Silver Wind (Rice Shochu) 【Wine · High Ball】 Jack Daniel 【High Bow】 Apple Wine High Ball 【Non alcohol beer】 Dry zero bottle
Reservation deadline

Until 21:00 on the day before the desired store visit
Available days for reservation

Monday - Sunday - Public holidays - Holidays
2019/01/07 update