Course details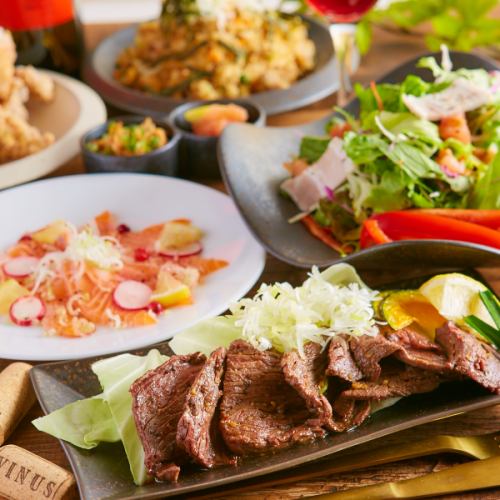 1/7 ~ 【8 items with all you can drink for 2 hours】 Thanksgiving of meat unfolded on the desk! "Fleshy proficiency" course
3480 yen
With 2 hours drink all-you-can-eat
9items

2

-

60persons

All-you-can-drink available

【All-you-can-drink for 2 hours】 LO 30 mins ago If you drink more than 3 cups of single item drink, this is a good deal.
Anyway Recommend for those who like to eat meat ★ Recommended for appetizer 's flavored birds, charcoal grill of chicken, cooked dumplings, main beef Harami Yaki, a course like a meat festival! ※The photograph is an image.
Course menu
【Small bowl】 Tortilla chips
【Appetizer】 Tataki of chicken - raw ham style ~
【Cooled vegetables】 Korean paste with delicious refreshing chopped salad
【Excellent】 Potato salad with black pepper effect
【Warmth】 Cooking dumplings ~ Pork bone soup ~
【Calcined】 Beef Harami Grilled ~ Steak Sauce Tailoring ~
【Cooking】 Charcoal grill of chicken ~ Yuzu pepper served ~
【Adjective】 Satisfied taste sauce sauce
【Sweetness】 Today's sweetness
※ Advance reservation required (consultation on the day)
※ All-you-can-drink for 2 hours (LO 90 minutes)
* Depending on the purchase situation of the day, we may change course contents.
※The photograph is an image.
The limit time of the course is 120 minutes.
The last order of all-you-can-drink is 30 minutes ago.
All-you-can-drink menu
·beer
· Clear Asahi
·Highball
· Black Nikka High Ball · Ginger High Ball · Cola High Bow · Lemon Squash High Ball
· Shochu
· Tou and (potato shochu) · Yan and (wheat distilled spirits)
·Sake
Magnificent
·Plum wine
· Tenderness plum wine · rich plum wine
·sangria
· Vigna Alvari sangria (red · white)
·Cocktail
· [Cassis base] Cassis soda · cassis Orange · cassis grape · cassis oolong · cassis tonic 【peach base】 peach soda · fuzzy group / peach grape · regga punch · peach tonic 【lychee base】 lycheesada · lychee orange · litchi grape · lychee oolong · Lychetonic
· Sour · Shochu High
· Lemon Sour · Lime Sour · Grapefruit Sour · Orange Sour · Acerola Sour · Oolong High · Green Tea High · Jasmine Hiron High
·wine
· Almaden (red · white)
· Flavor distilled spirit
· Seasonal fragrance? (Cassis · Yuzu · Lychee)
·Soft drink
· [Pepsi · Cola · Ginger Ale · Tonic Water · Orange Juice · Grapefruit Juice · Lemon Squash · Acerola Juice · Calpis · Calpis Soda · Oolong Tea · Green Tea · Jasmine Tea
· ◆ Further upgrade with + 500 yen ◆
· 【Beer】 Draft beer (Asahi Super Dry) 【Shochu】 Satsuma Shiji (Potato Shochu) · Nobiru (Wheat Shochu) / Silver Wind (Rice Shochu) 【Wine · High Ball】 Jack Daniel 【High Bow】 Apple Wine High Ball 【Non alcohol beer】 Dry zero bottle
Reservation deadline

Until 17 o'clock the day before the desired store visit
Available days for reservation

Monday - Sunday - Public holidays - Holidays
2019/01/07 update