Course details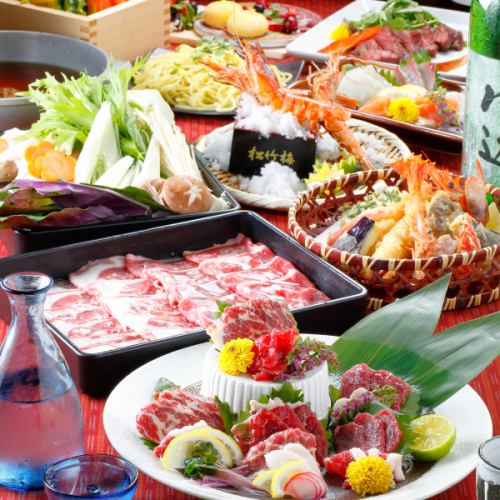 1/7 ~ 【10 goods with a drink for 2 hours】 4500 yen】 Black pig shabu-shabu and southern Kyushu proficiency "Kusu's" pole "course
4500 yen
With 2 hours drink all-you-can-eat
10items

2

-

60persons

All-you-can-drink available
Recommended for various banquets and banquets that honor valued customers! Content of the course that contains the seafood of Southern Kyushu, abundant of mountaineering.10 kinds of fresh fish assorted, rice ball tempura, black pig shabu-shabu pot, beef lean charcoal grill grill etc.※The photograph is an image.
Course menu
◆ Miscellaneous goods ◆
【Small bowl】 Today's small bowl
[Frozen] Assorted 3 kinds of horse sting and flavored birds
【Fresh fish】 carefully selected on the day! Five fresh sashimi of fresh fish served
【Calico】 Grilled beef red grilled with mountain auction
【Nabemo】 Kagoshima Prefecture Produce Black Pork Shabu-shabu ~ Boasting Soy Sauce With Soup ~
【Excellent】 Tempura with curry ~ Please with curry tea salt ~
【Warmth】 Specialty Chicken Namban ~ Golden Ratio of Sweet Vinegar and Tartaru ~
【Chopstick break】 Assorted foxtrip salad
【Episode】 Selectable items - Noodles or wild cooking ~
【Sweetness】 Today's sweetness
※ 2 days advance reservation (reservation impossible after the previous day)
※ 2 hours with all you can drink (30 minutes before LO)
* The contents may change depending on the purchase situation.※The photograph is an image.
The limit time of the course is 120 minutes.
The last order of all-you-can-drink is 30 minutes ago.
All-you-can-drink menu
·beer
· Clear Asahi
·Highball
· Black Nikka High Ball · Ginger High Ball · Cola High Bow · Lemon Squash High Ball
· Shochu
· Tou and (potato shochu) · Yan and (wheat distilled spirits)
·Sake
Magnificent
·Plum wine
· Tenderness plum wine · rich plum wine
·sangria
· Vigna Alvari sangria (red · white)
·Cocktail
· [Cassis base] Cassis soda · cassis Orange · cassis grape · cassis oolong · cassis tonic 【peach base】 peach soda · fuzzy group / peach grape · regga punch · peach tonic 【lychee base】 lycheesada · lychee orange · litchi grape · lychee oolong · Lychetonic
· Sour · Shochu High
· Lemon Sour · Lime Sour · Grapefruit Sour · Orange Sour · Acerola Sour · Oolong High · Green Tea High · Jasmine Hiron High
·wine
· Almaden (red · white)
· Flavor distilled spirit
· Seasonal fragrance? (Cassis · Yuzu · Lychee)
·Soft drink
· [Pepsi · Cola · Ginger Ale · Tonic Water · Orange Juice · Grapefruit Juice · Lemon Squash · Acerola Juice · Calpis · Calpis Soda · Oolong Tea · Green Tea · Jasmine Tea
· ◆ Further upgrade with + 500 yen ◆
· 【Beer】 Draft beer (Asahi Super Dry) 【Shochu】 Satsuma Shiji (Potato Shochu) · Nobiru (Wheat Shochu) / Silver Wind (Rice Shochu) 【Wine · High Ball】 Jack Daniel 【High Bow】 Apple Wine High Ball 【Non alcohol beer】 Dry zero bottle
Reservation deadline

2 days before arrival date 17 o'clock
Available days for reservation

Monday - Sunday - Public holidays - Holidays
2019/01/07 update